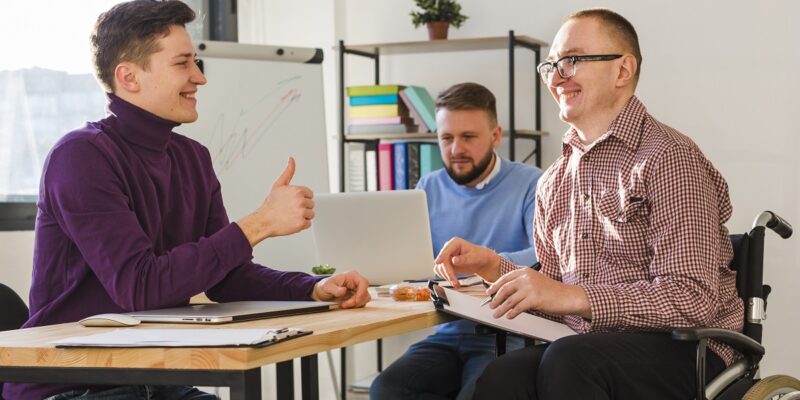 Disability is defined both biologically and socially.
Biologically, a disability is anything that differs from what is considered "normal." Socially, a disability is anything that prevents a person from participating fully in society.
To learn new skills and find a place in society, people with disabilities must feel accepted and welcomed in the everyday environment. In fact, people with disabilities have a lot to gain from the inclusion and diversity of their communities. In this article, we will examine the advantages of community integration and the steps that may be taken to make it easier for NDIS participants to participate in community events.
Community Participation at a Glance
An active community participation project should encourage them to get involved in community projects to promote people's health and well-being. Several variables can affect community participation in NDIS, including ministerial responsibility, social obligation, and a strong desire to remain within a certain group.
We think that persons with disabilities could live more freely and find a place in society if they were more actively involved in their local communities.
In what ways may communities engage with the NDIS support coordination? You can get by without creating a detailed strategy, though. You can take the lead by joining the people of the disabled community in a variety of physical and mental activities, including swimming, horseback riding, cooking, shopping, and communication, where they hone their life skills in preparation for re-entering mainstream society.
Social Participation
Health, happiness, and quality of life can improve by engaging in meaningful social interactions and pleasurable pursuits. Getting out and about in your neighbourhood can help you overcome boredom, feel more connected to others, and learn new things.
The NDIS understands this and will provide financial assistance to help you. The NDIS allows you to hire a support worker to accompany you to events like art classes and sports days under the heading "Assistance with Social and Community Participation."
Capacity Building and its 'Increased Social and Community involvement' is another NDIS category that helps with social involvement; it can fund education or experience that ultimately leads to greater autonomy. More than just a means of entry, the 'Increased Social and Community Participation' is also conceived as a means of growth and improvement.
Types of Social Community Participation
NDIS service provider who qualify to offer 'Social and Community Disability Services help these individuals become more active members of their local communities.
Art classes, trips, guitar lessons, and gardening are just a few activities that qualify as "social and community participation" under the NDIS. Getting out and about is made easier by the creative ways in which the community can be engaged. Individuals enrolled in the NDIS can take part in the following community activities:
Innovative Community Participation
Organised NDIS support services for disability clients help disabled persons be active members of their communities. Community Engagement Practitioners are trained experts who work alongside NDIS participants to help them become more involved in their local communities and increase their chances of securing meaningful employment.
Through a community-based capacity-building strategy, Community Engagement Practitioners help NDIS members. After that, they offered assistance in making the formal-to-informal employment-and-support transition smoothly and successfully.
Social and Community Participation
Individuals eligible for the NDIS can access funds for "Assistance with Social and Community Participation" as part of the Core services category. Being involved in community life encourages other people to do the same.
Community, Economic, and Volunteer Participation is the new term for what used to be known as "Social and Community Participation" under the NDIS.
Assistance in attending community-based events is considered part of encouraging economic, social, and communal participation. Communities, centres, and sports facilities that provide enjoyable group bonding activities like gardening and art creation are examples of community engagement.
What's The Value of Community Participation?
Through participation with the recovery coach NDIS, people engage in community initiatives that improve their health and quality of life. Group and individual activities both help develop social skills. Here are some of the most important ways in which community involvement helps the NDIS:
Increase Community Spirit
People with disability often feel a higher sense of community connection when participating in community activities. Participating in community activities such as planning, building, communicating, or competing can assist these people in improving their outlook.
It Helps Develop Better Interpersonal Skills
Participation in the community improves the quality of life and social skills of people with impairments. Empowering family members or the NDIS support coordinator to organise and carry out community initiatives promotes participation in and contributions to the community. As a result, communication and relationship-building efforts yield observable traces.
Reduced Stress and Worry in the Mind
Isolation and loneliness increase the risk of developing mental health problems like depression, anxiety, and dementia among people with disabilities. Disabled people can lessen their risk of developing mental illness by being actively involved in their communities.
Community Network Access
People with disabilities have a great chance to hone their social skills through participation in community programmes. Community access programmes are often provided as part of disability day programmes, allowing participants to meet and talk to people of all ages and develop the social skills and confidence they need to make friends independently.
In conclusion, community participation plays a crucial role in empowering people with disabilities and this helps them lead fulfilling lives. The NDIS provides various avenues for individuals to participate in social and community activities, promoting their health, happiness, and quality of life. By fostering inclusive communities and engaging in meaningful social interactions, we can create a more welcoming and accepting society for everyone.